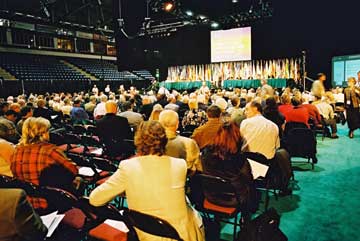 "Community" Forestry in your Drinking Water.


Published on September 20, 2004, the newsletter provides background information on why the controversy over logging BC's drinking watershed sources has become complicated, dividing communities by "ecoforesters" through the provincial government's introduction of Community Forest Licence tenures.

About 450 copies of the newsletter, including a copy of our related press release and the letter to Forests Minister De Jong, were handed out to delegates at the Union of B.C. Municipalities' annual conference on Wednesday morning September 22, 2004 by BCTWA Coordinator Will Koop. The conference was held in Kelowna at the Grand Hotel's facilities, and meeting proceedings were barred from the general public - only delegates with registration passes were allowed in the building. Special permission was granted to take the picture shown here.
NEWSLETTER
ISSUE NO.1
Pdf File
656 kb
Natural Source Protection: High Time for a Change.

Published on April 1, 2004, and first distributed to delegates at the 11th Canadian National Conference and 2nd Policy Forum on Drinking Water,

Promoting Public Health Through Safe Drinking Water

, held in Calgary, Alberta, at the Telus Convention Centre/Marriott Hotel, April 3-6, 2004, an event sponsored by the Federal - Provincial - Territorial Committee on Drinking Water (organized by the Canadian Water and Waste Association).