September 30, 2013 -
A New Report by Will Koop
B.C. Tap Water Alliance Coordinator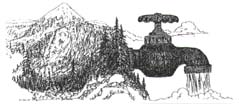 THE BIG EDDY:
A History of the Big Eddy Waterworks District
and its Long-Standing Battles to Protect
the Dolan Creek Watershed Reserve

(Downloadable pdf sections below)

After many years of research, and following the release of the June 2006 book, From Wisdom to Tyranny: A History of British Columbia's Drinking Watershed Reserves, the B.C. Tap Water Alliance has released its next new major compendium report, The Big Eddy.

Both Wisdom to Tyranny and The Big Eddy are unique, critical, pioneering, informative and indispensable research tools on British Columbia's community and irrigation district Watershed Reserves and the protection history of BC's drinking water sources.

We have dedicated The Big Eddy report in honor of the life, work and legacy of the late Colleen McCrory (see below), one of the founding members of the B.C. Tap Water Alliance in February 1997.

For an overview explanation of this report, please refer to the two chapter links below on Preface and Acknowledgements and the 10-page Executive Summary. For a overview of legislation and policy of Watershed Reserves, refer to Appendix A. (

Note:

Appendix A was revised on October 2, 2013)

Due to the report's size of some 57 megabytes - 345 pages in length, with over 230 images - the report is divided below into smaller downloadable single and multi-chapter segments in pdf format.

This report was almost entirely self-funded. If you appreciate the quality of our research and advocacy, and wish to support our efforts, return to the Home Page here to make a financial donation on the PayPal link. Thank you.






| | |
| --- | --- |
| | 1.2 Megabytes |